Data science as the next step towards change
Soda's mission is to solve social challenges using data science in collaboration with domain experts. Using a combination of data analytics, machine learning and data visualization, we bring your social mission a step forward. Data science can be the next step towards change.
​
Soda was founded from a passion for enabling health, happiness and sustainability using smart technologies. Many opportunities are yet to be explored in terms of improving society with data. Too few decisions are based on a careful analysis of facts. There is often an abundance of data, but extracting valuable insights from these data turns out to be challenging.
​
Together with your domain knowledge and our data science expertise, we achieve the next step in accomplishing your mission. We discover patterns and trends, predict future developments and make data intuitive and appealing. Personal contact is important at Soda. We happily come by to brainstorm about the possibilities. Contact us at info@sodascience.nl.
The main goal of data science is converting large amounts of data (also called big data) to useful information. Applying the correct visualization techniques makes information tangible, and serves as a solid foundation for decision making. Adding interactivity allows the user to play around with the data, resulting in a better understanding of what is really going on. Interactivity makes every data solution more appealing and more useful in (1) your daily work, (2) communication with your team and (3) communication with the outside world. Ideally, we combine all valuable insights into one comprehensive overview. In our demo, we for example interactively visualize geographical and temporal trends in life expectancy.
​
​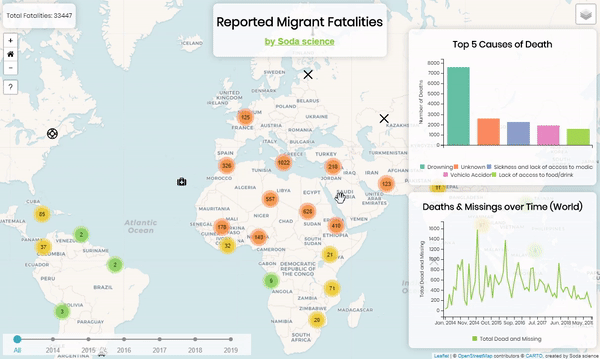 MACHINE LEARNING & ANALYTICS
Valuable information in data is not always directly apparent. To extract this information we analyse the data using smart self-learning Machine Learning, or Artificial Intelligence (AI) algorithms
​
Analyzing patterns and relationships between data points enables prediction of results and future trends, and creating groups within data sets.
​
Where Machine Learning is also valuable on structured data sets such as CSV files, an example of application on unstructured data (video) is shown on the right. Deep learning techniques (subgroup of Machine Learning) allows us to automatize complex and labor intensive visual tasks. In this case, we have trained a Deep Learning Neural Network to quantify plastic debris in rivers.
An organization becomes data-drive step-by-step. Personal and iterative collaboration are important at Soda, from strategy determination until the final product.
To read more about our projects, click on one of the following photo's!
Organisations that we proudly collaborate with