We enable social organisations to increase their impact by becoming data-driven
Data is of large importance in decision making. But how do you make use of these data, which questions can you answer, and how do you communicate results to your community? Soda makes data science accessible.
Follow us on LinkedIn for regular updates
Are you already using data to...
Increase and measure impact
To read more about our projects, click on one of the following photos!
"Soda helped us make a huge step in usage of data. They work fast, reliable, and provide smart solutions that improve our internal knowledge and capabilities. Soda inspires us to think bigger as well. For example, we are now exploring how we can use Machine Learning to predict HIV prevalence in data-scarce regions based on demographics. Soda has its heart in the right place. They are genuinely motivated to help us in our mission. This makes them capable, of great added value and pleasant to work with." Eva Roos, Aidsfonds
VIEW OUR INTERACTIVE MAPS
Corona Virus
Daily insight in the spread of the Corona virus in the Netherlands bases on RIVM data, presented in our interactive map. Compare trends in different regions, and obtain better insight in the limited IC capacity available to us.
Refugee Crisis
Comprehensive insight in the known fatalities regarding the refugee crisis. No longer is our knowledge limited to our local media; all known cases can be seen in this geographical solution.
TELL YOUR STORY WITH DATA
Are you working on an inspiring project? It would be a pity if it is only communicated using text and isolated statistics. We believe in the power of storytelling with data visualization. Show in one overview why your challenge is relevant, and how you contribute to a solution.
Interactive Insights
Interactive reports in which important questions are extensively analysed and visualized.
Data Storyboards
Soda's Data Storyboards tell important stories in one overview. In geographical context, interactive, and easily shareable.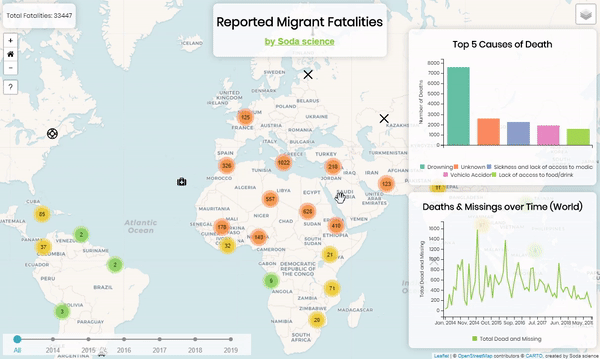 CREATE MORE VALUE WITH ARTIFICIAL INTELLIGENCE
Valuable information in data is not always directly apparent for people, and can be very time consuming to extract. To extract this information we analyse the data using smart self-learning algorithms.
Machine Learning
Patterns and relationships between data points enable us to predict results and trends, and cluster groups of data points. For example, predicting the likelihood of someone having a certain illness based on a set of symptoms.
Time consuming visual processes can be atomized by training a Deep Learning model to recognize complex patterns, and predict presence of object in these images. For example, predicting presence of plastics in footage of rivers.
An organization becomes data-drive step-by-step. Let's start off with a personal meeting to get to know each other, in which we can also brainstorm about the possibilities.
DATA IS THE NEXT STEP TOWARDS

CHANGE
Every day, numerous people are working on tackling the big challenges of our society. Soda has been founded based on a passion to improve society using data science. To achieve this, we collaborate with the most ambitious organisations and domain experts. Are you ready to make the next step? Get in touch and we will plan a meeting.